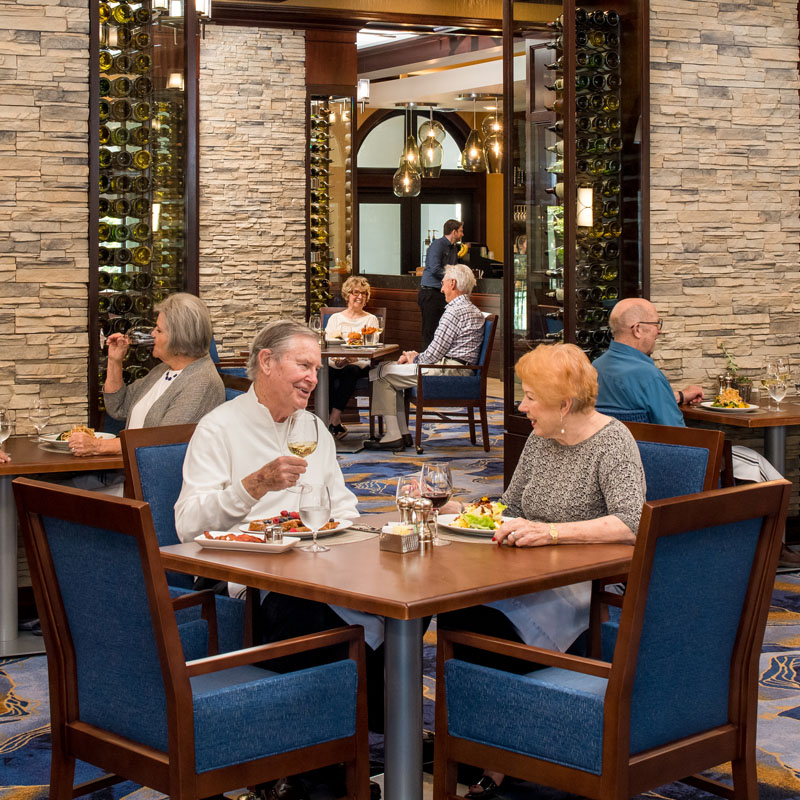 Resort-Style Dining in Lake Oswego
A universe of culinary possibilities
Dine. Sip. Relax. Repeat.
What makes Mary's Woods unique and unparalleled? Our culinary teams are led by three Head Chefs and an experienced dining service team to ensure a bespoke dining experience that wants you to come back for more…
From a quick nibble to formal fine dining, our talented culinary team has you covered. You'll find an array of dining options at Mary's Woods that will leave you impressed and will exceed your expectations. Let us pour the wine for you, light the candles, and enjoy with friends and family.
With 7 venues to choose from, dining is a pleasure and art of living at Mary's Woods – nutritious, delicious and served with impeccable attention to detail.
3 culinary concept restaurants – 3 Head Chefs. 2 Café's, 2 Lounges. 6 Assisted Living dining venues.
The choice is yours!
*Due to COVID-19, Mary's Woods may temporarily alter various dining options and venues. 
Three Sisters Restaurant
The Three Sisters Restaurant offers a dining experience like no other offering a menu that is seasonally and locally-inspired using the finest quality seafood and meats with focus on organic ingredients. Enjoy our weekly features, as well as our core menu utilizing the best the Pacific Northwest has to offer. The quality and service rival the best restaurants in Portland.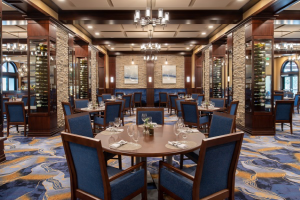 Three Sisters Café
The Three Sisters Café is the perfect venue to enjoy a coffee or latte and local bakery treats for breakfast. We offer a large variety of salads, sandwiches and pizzas for lunch and our locally crafted live edge communal tables are beautiful. Grab a beverage to celebrate life and enjoy at our 2 outdoor patios overlooking the Pollinator Garden and Heritage Center.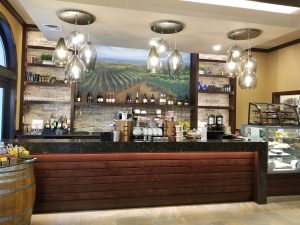 Dagostino Lounge
Our popular Dagostino Lounge is the place to watch a game or chat with friends playing cards while enjoying craft cocktails. We offer 2 rotating beers on tap and a small plate menu that wants you come back for more! Book your meeting or special dinner at 1 of our 4 private dining rooms overlooking our Pollinator Garden, Village Lawn or Veronica Plaza.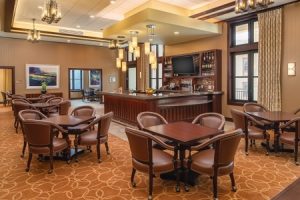 Mt. Hood Dining Room
In the Mt. Hood Dining Room, you'll savor resort-style fine dining, featuring traditional American fare cuisine. Executive Chef Ryan Dumbauld created a menu that includes an amazing variety of small plates, salads and rotating entrees from the ocean, farm and ranch. Host of the popular Sunday Brunch and special holiday events including outdoor BBQ's. Every bite is made more sumptuous by the beauty of nature surrounding the dining room.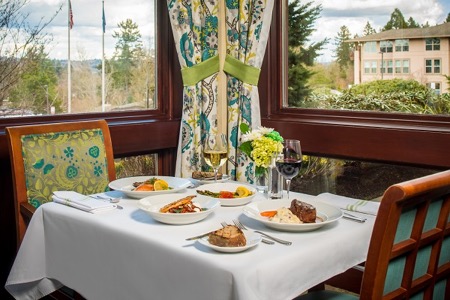 Adriatic Kitchen - Newly Renovated!
The Adriatic Kitchen offers a Mediterranean Dining Experience in a warm and comfortable setting. Build your own healthy fare from our salad bar featuring house made soups, specialty salads, or craft your personal signature salad. Open for lunch and dinner the menu features light appetizers, flatbreads prepared in our Hearth gas fired oven, gourmet salads and sandwiches complemented by weekly special events including our "Meat of the Week" carving station. Finish your meal in style with our house made desserts or a treat from our gelato bar. Indoor Dining – Outdoor Dining – or a Meal to go – the choice is yours!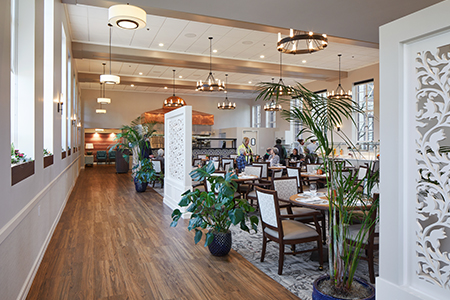 Social Lounge
The Social Lounge is the perfect place to get a cup of coffee or latte prepared by our friendly baristas, grab a snack to go or dine in or enjoy a full bar, and sit by the fireplace. Our weekly hosted Wine Night is very popular among residents – enjoy a glass of wine and share stories with friends and neighbors.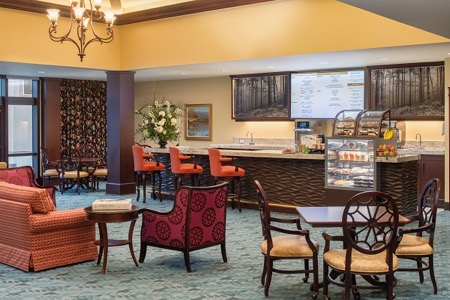 Friendship Place Dining Room
In the comfortable Friendship Place Dining Room, assisted living residents order from an ever-changing menu of breakfast, lunch and dinner selections and enjoy the views from the outdoor patio onto the new Healing Garden.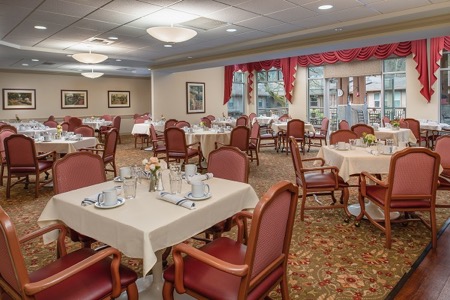 The Grove Restaurant
At Kellogg's The Grove Restaurant, dining has a special flair as residents enjoy pure nature with stunning views of the surrounding woods, along with local, seasonal flair in the rotating menus for breakfast, lunch and dinner. Don't forget to say hi to our group of deer that made Mary's Woods their home and might peek thru the window!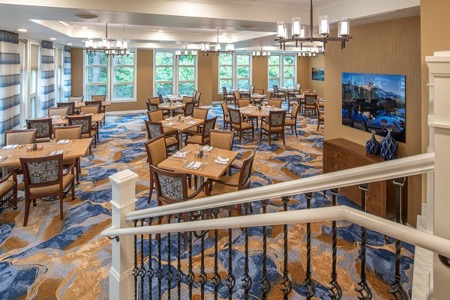 Grove Treehouse
The best kept secret at Mary's Woods is the Treehouse Café. Located in Kellogg, the Café is the perfect place to grab a cup of coffee, latte and treats, and relax at the library or fireplace room.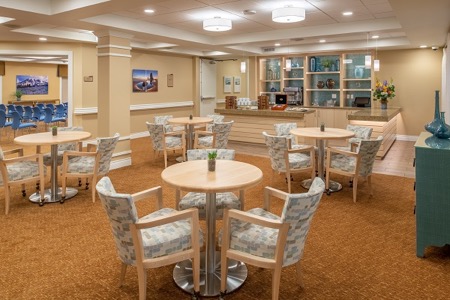 We feature a variety of flexible meal plans, and our culinary team is always working to deliver the finest in senior nutrition.
"In all things of nature there is something of the marvelous." - Aristotle