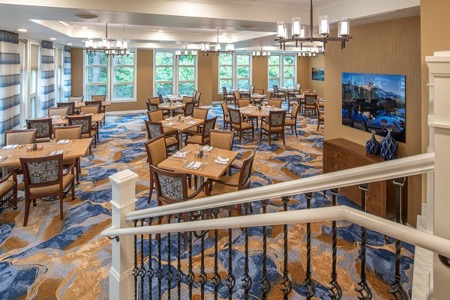 Capturing the Essence of the Oregon Lifestyle
Capturing the essence of the Oregon lifestyle at Kellogg Assisted Living!
It isn't uncommon for residents and their families to be pleasantly surprised at just how fabulous the food is at Kellogg's The Grove restaurant. With a creative menu inspired by the changing seasons, the restaurant serves three meals a day to residents who live in Kellogg and Marie Rose Assisted Living, including preparing for special diets and modified textures per doctor's recommendation.
"The Grove's fall menu captures the essence of the Oregon lifestyle," said Bryan Bailey, Kellogg Sous Chef. "Now that the days are cooler, a warmer and hearty approach to dining is called for, so the kitchen takes advantage of seasonal root vegetables and a wide array of quality meats and seafood."
Dishes on the fall menu include Moroccan Lamb Stew, Seafood Gumbo, and Chicken Paprikash. Each is individual and unique, not just the same old mundane flavors and presentations that one might come to expect. "They show creativity and worlds of flavor," said Bailey.
The Chef added that his favorite dessert is the house-made bread pudding, crafted from cinnamon rolls instead of bread, with local butter and organic spices. "It's warm, decadent, and highly memorable."
Food aside, the most sensational part of The Grove experience is the dining room with its large windows looking into the woods. From time to time deer and other critters are spotted lurking in the brush. The Kellogg building, located conveniently between the Village and Provincial House, is part of the forty acres of historic land that make up the Mary's Woods campus.
"The dining staff pride themselves on interacting with our residents and knowing their likes and preferences," said Ralf Brabandt, Vice President of Operations. "And the culinary team is inspired by creating memorable dining experiences."
With lifestyle expectations at an all-time high at Mary's Woods, certainly The Grove experience measures up.