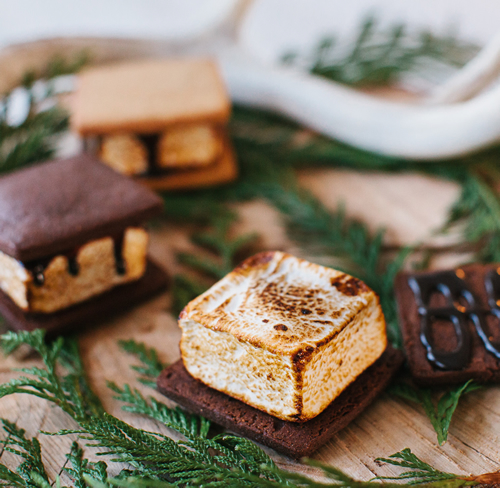 'Tis the Season to Host a Party at Mary's Woods
Passion. Personality. Respect. Teamwork. Creativity. Just a few words that best describe the Mary's Woods catering team, whose mission is to create fond memories through food and wine, while elevating standards and expectations.
Forget that there are presents to buy and wrap, cookies to bake, holiday performances to attend – if you're planning a holiday gathering – or any gathering for that matter – the time and work it takes to pull off the perfect event might be more than you've bargained for.
At Mary's Woods, there's an easy way to work around a calendar-packed winter, pull off a special birthday surprise, and honor an anniversary. Consider the Mary's Woods catering department for your next big celebration. Catering solves many of the event-hosting joy killers – like not having enough time or resources.
"Our knowledgeable team will keep festivity and fun intact while guiding you through the event planning and management process," said Todd Outhouse, Senior Events & Catering Manager. "With our expertise, creativity, and your vision, you can be at the table making memories with the people you love most, instead of slaving in the kitchen."
It doesn't have to be a special occasion like a birthday or anniversary to host a catered event on campus. With the holidays just around the corner, residents and friends are poised to spend some quality time together. One of the best places to reflect and share stories is around the dining table. Food is the key to bringing people together for good times and conversation. But if you're not wanting to deal with the hassle of cooking a meal, and then cleaning up the kitchen (and house), look no further than your catering options at Mary's Woods.
"With meal planning, you decide what to serve off the menu," said Todd. "From light snacks, to plated meals, and beer and wine, we have exceptional culinary offerings for any budget."
Mary's Woods also has an assortment of cozy rooms and beautiful gathering spaces for your event.
The Catering Department recently announced its fall and winter menu, which features tasty entrees such as Grilled Lobster Tail and Petit Filet Mignon, and includes desserts like Pumpkin Cheesecake, Sticky Toffee Pudding, and
Willamette Apple Frangipane.
"S'mores are the treat of the season," added Todd. "We partner with 1927 S'mores in Portland and my favorite is their Bourbon Salted Caramel S'more!"