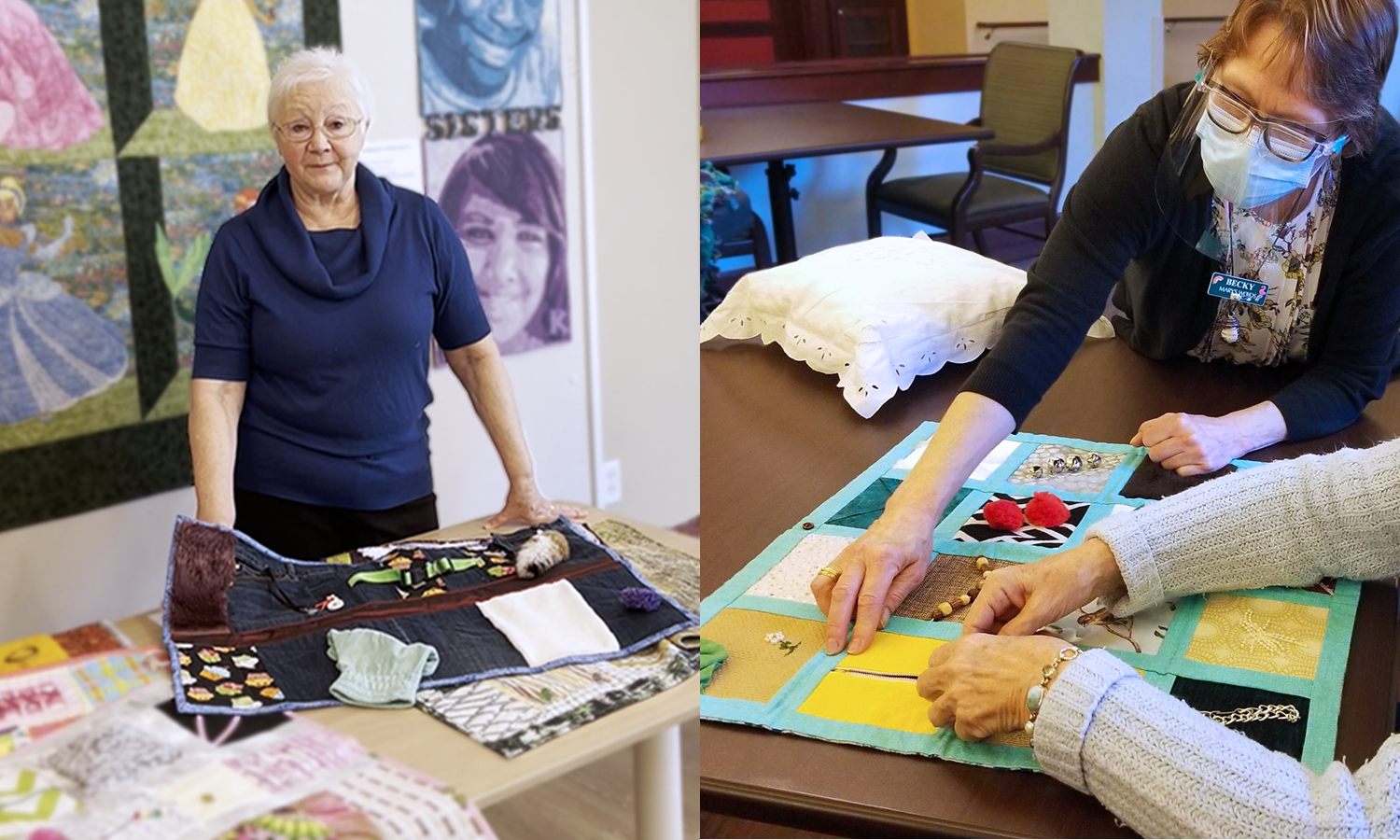 Sewing Community Connections – Creative Minds & Unique Community Create Magical Results
Mary's Woods' Residents Create Fidget Quilts
This past summer, as the challenges of COVID-19 continued, Mary's Woods' resident-driven fiber arts group led by Judy and Rosemary set out to create fidget quilts for Caritas residents.
A fidget quilt is a lap quilt featuring zippers, ties, buttons, snaps, textures and more. One of the ways that people with Alzheimer's or dementia often show anxiety or agitation is in their hands. They may begin to wring their hands, or pull at clothes or blankets. A fidget quilt helps to restore calm by busying the hands with sensory stimulation and mental distraction. They are a simple and effective way to reduce anxiety, provide comfort, and relieve boredom.
The creative group sewed fifteen unique sensory quilts to be given as gifts. For people living with memory challenges, holding a sensory quilt in the lap helps with relaxation, allows for motor skills to be practiced, and helps to reduce memory loss.
"We wish everyone in memory care well and want to take care of them as best we can," said Rosemary.
Mary's Woods quilters intentionally designed the quilts with a lot of variety to appeal to different residents. Some are more masculine in color, while others feature more "game" aspects, such as marble mazes.
"This entertaining and interesting work is lots of fun. We enjoy our time together creating them," said Rosemary. The quilts have been well received in Caritas, some popular features are textures, gloves, and pockets. Different sizes, weights and colors provide variety and engaging options for residents.
"The quilts are excellent tools for starting conversations with residents in between activities," said Gail, Life Enrichment Assistant. "I can ask them what memories a color or texture brings up, and get a resident talking and engaging."