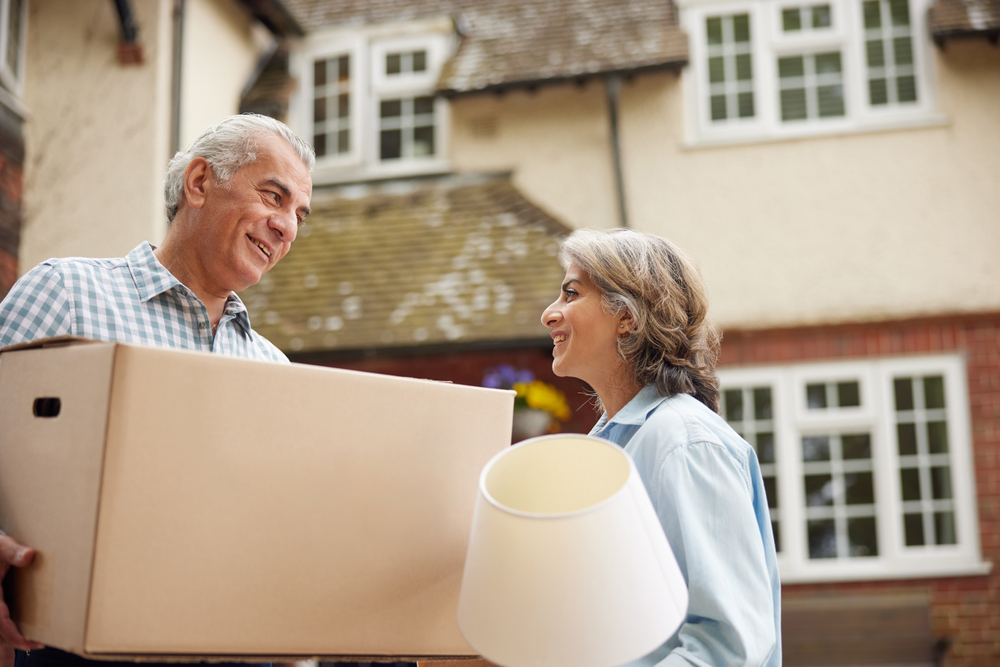 Where to Start With a Move to Assisted Living
Moving can be an overwhelming experience at any age, but coordinating a move to an assisted living community can be especially stressful. That's why the experts at Kellogg Assisted Living at Mary's Woods put together this resource on how to prepare for your parents' big move and what to pack in order to make their new residence feel like home.
How to Get Started
The best way to get started with a move to an assisted living community is by carefully reviewing the floor plan and downsizing your loved ones' household items accordingly.
It's important to start the downsizing process as soon as possible, so you and your parents can thoughtfully sort through their items together. Here are a few items to start with:
Heavy, oversized furniture
Extensive collections or an abundance of knickknacks
Throw rugs, area rugs and other decorative items that sit on the floor
Duplicates of items
Old paperwork
Valuables like heirlooms and jewelry need to be stored in a safe deposit box or kept with trusted family members, so be sure to find a secure place for your loved ones' most precious keepsakes.
Plan the Logistics of Moving
After you've helped your parents downsize, there are a few other tasks to complete, like hiring movers or organizing how friends and family members will help on moving day. Here are tips on how to plan the logistics of moving to an assisted living community:
If you're hiring movers:
Look for movers that specialize in moving residents into senior living communities
Read reviews online
Get cost estimates
Confirm move-in date
Confirm the moving company is properly licensed and insured
If you're having family and friends help:
Make a plan for which people will complete specific tasks
Confirm each person's availability
Rent a moving truck and moving equipment
Set a schedule for moving day
Have a back-up plan for rainy days or items that are difficult to move
Other tasks that need to be completed before moving day include mail forwarding to your loved ones' new address, canceling current utility services, and providing updated information to parties like close friends and family, lawyers, healthcare providers, financial institutions and the Social Security Administration.
A Checklist for What to Bring to an Assisted Living Community
Now that you've gone through the downsizing process and figured out the logistics of your loved one's move, you're in excellent shape to begin packing. While each person has a different comfort level, there are certain items that make any residence feel like home.
Consider this checklist for what to bring to assisted living when you begin to pack:
Bed. The size of a bed compared to the size of the room is important, so make sure you review the floor plans. Make sure there will be enough space to comfortably get dressed and move around, which means you may need to switch to a smaller bed.
Bedding. Bring blankets, comforters, pillows, pillowcases, sheets, pajamas and everything else that aids in a comfortable night's sleep.
Dresser. A dresser in the bedroom is the perfect spot to store sweaters, undergarments, ties and other clothing and accessories that can't be hung in a closet. You can also place photos, knickknacks, a small jewelry box or houseplant on top.
Nightstand. A nightstand is a great addition to any bedroom in assisted living, because it doesn't take up much space, and it's the ideal place for things like a bottle of water, reading lamp or smart device.
Clothes. Finding the right amount of clothes to bring to assisted living can be tricky. Mix-and-match pieces are a great way to add variety to a wardrobe and save closet space. Bring clothes for evenings out, exercising, seasonal weather, a couple pairs of comfortable, yet stylish, shoes, slippers, socks and hangers.
Extra lighting. Lamps to customize the lighting are essential to making an apartment feel like home. Your family member can keep a couple lamps from their current home or upgrade to lamps controlled via smartphone.
Seating. While most floor plans in assisted living communities can't fit a large couch, they can fit plush loveseats. You can also buy foldable seating that can be stored and brought out for guests.
Decor. It just isn't home without our favorite decor. Make sure you bring a limited assortment of your loved one's favorite decorations, like family photos, souvenirs and knickknacks, to display throughout their apartment. Avoid decor that's displayed on the floor, because it could be a tripping hazard.
List of medications. While Kellogg Assisted Living at Mary's Woods provides medication management to our residents, many other senior living communities don't. Bring a list of prescriptions and over-the-counter medications to reduce the risk of adverse reactions.
Personal items. Along with their favorite shampoo and body wash, be sure to bring hand soap, lotion, razors, shaving cream, deodorant, makeup, toothbrush, toothpaste, mouthwash, floss, denture care and a brush or comb.
Towels. One or two sets of towels should be just fine for assisted living, but a terry robe for after bathing could be useful.
Extras. Toiletries need to be replaced often. If there's enough storage space, consider stocking up with essentials like toothbrushes, toothpaste and hand soap. This will save future visits to the store and ensure your parents have what they need to take care of themselves.
Cleaning supplies. Our assisted living community in Lake Oswego, OR, provides housekeeping and laundry services, but your loved one will still want supplies to clean up small messes. Keep cleaning supplies on hand like a broom and dustpan, surface wipes, paper towels and dish soap.
Pet supplies. While technically not for your family member's self-care, your loved one's furry or feathered friend will still need supplies for a comfortable life in a pet-friendly assisted living community.
Television and music. Though senior living communities have plenty of things to do, there's nothing like a quiet evening binge-watching your favorite show. Assisted living floor plans can easily accommodate a small television set and entertainment center. Don't forget to set up cable, bring a DVD player for movies and a radio for music.
Tablet. Tablets are the perfect form of entertainment to tote around the entire community, and they're an easy way to access photos, books, music and keep in touch with long-distance friends and family. E-readers are a great alternative for less tech-savvy seniors.
Charging cords. Make sure you bring and organize charging cords for items like cellphones, fitness trackers, tablets and headphones. Avoid extra-long charging cords, because they could be a tripping hazard.
Kitchenette supplies. You won't need to pack too many kitchen utensils or tableware, because your loved one will eat at least one meal a day at a dining venue. Look at the floor plan to see what the kitchenette can accommodate. It's likely you'll need to downsize to just the basics.
Snacks. While the fridge and cupboards don't need to be packed with food, there should still be a good supply of healthy drinks, snacks and easy-to-make meals stocked for times when your loved one wants a quick bite to eat at home.
If you have questions about what to bring to assisted living, contact your loved one's community. The staff is there to help your family member settle in and can offer advice to make the move easier. You can also get information on how your parents can get a head start on joining resident clubs and what activities or events they can look forward to attending.
Discover the Perfect Setting to Nurture the Mind, Body and Spirit at Kellogg Assisted Living
Kellogg Assisted Living at Mary's Woods features a beautifully landscaped campus, thoughtful services and amenities, friendly residents and exceptional hospitality that combines seamlessly to provide you with an incredible lifestyle. We have several assisted living floor plans available, but they won't last long! To discover what 100 years of experience in the industry can do for your retirement, contact Mary's Woods online or call our team at 1-800-968-8678, and we'll schedule an in-person visit.