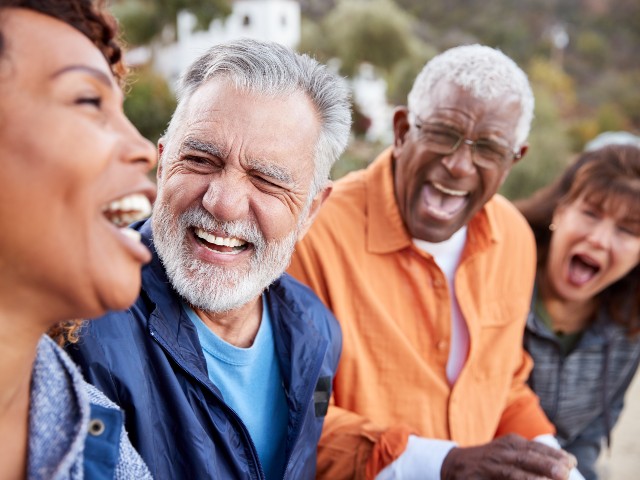 Why You Shouldn't Put Off Moving to Independent Living
For some people, the thought of moving to a senior living community means giving up their independence. But the reality is they could enjoy more independence because they'd have more opportunities to do what they want. Many senior living communities are more like resorts than retirement homes. They cater to residents' interests and do everything in their power to make residents' lives happier and healthier. If you — or someone you love — is in no hurry to start researching your options, here are five reasons to start sooner rather than later. 
1. Enlarge your social circle.
Opportunities for making new friends and connecting with others are easy to come by in a senior living community. At Mary's Woods, for example, there are clubs, classes, volunteer opportunities, outings and community events where you can meet your neighbors and share your interests. A fitness center, dining venues, libraries, game rooms, arts studio, woodworking shop, music room and quilting studio are just a short walk from your door. So meeting friends and neighbors is easy. Plus, there are health benefits for seniors who stay connected. Social isolation and loneliness have been linked to higher risks for depression, cognitive decline, anxiety and heart disease. If you're not seeing friends and neighbors like you used to, a move to independent living can get your social life back on track.
2. Enjoy greater peace of mind.
People who move to independent living don't have to bother about home maintenance and repairs. It's all taken care of for them. But for those who move to a community that also offers continuing care, the peace of mind they enjoy extends further. According to the U.S. Department of Health and Human Services, 70% of adults 65 and older will need some type of long-term care in their later years. Knowing where they'll get the care they may need gives residents of continuing care retirement communities (CCRCs) a greater sense of control over their lives. Instead of leaving the decision up to their spouse or children at the worst possible time, they can breathe easy knowing they have a smart plan in place.
3. Pursue your interests.
After a lifetime of working and raising a family, older adults finally have time to pursue their own interests. A senior living community offers residents opportunities to do just that. Many residents want to improve their fitness. At Mary's Woods, there are fitness instructors and three Fitness & Wellness Centers to help you reach your goals. In addition, there are opportunities to exercise your mind and energize your spirit. Classes, lectures, clubs, workshops, events and travel opportunities fill our calendar. It all adds up to a more engaging and fulfilling lifestyle. 
4. Lower cost of living.
Mortgage payments, utility bills, home insurance, property taxes, HOA fees, trash removal, lawn services, housekeeping services, gym membership, home repairs, groceries … When you add up the monthly costs of staying in your home versus the monthly cost of living at a senior living community, you might be surprised at how affordable senior living really is. Now factor in the cost of in-home care services, and you'll see how expensive living at home could potentially be.
5. Now's the time to start your research.
Moving to a senior living community is an important decision, so you want to be sure the community you choose checks all the boxes. If you've got your eye on a particular community, ask about their waitlist policy. It can take months or years for the floor plan you prefer to become available. That's why it's important to start your research early. 
If you're downsizing from a large home to a smaller floor plan, it's also a good idea to start sorting and organizing what you'll be taking with you. CCRCs (also known as Life Plan Communities) may also require you to pass a health check before you can become an independent living resident.
To learn more about becoming an independent living resident at Mary's Woods, contact us. We're ready to help you every step of the way.