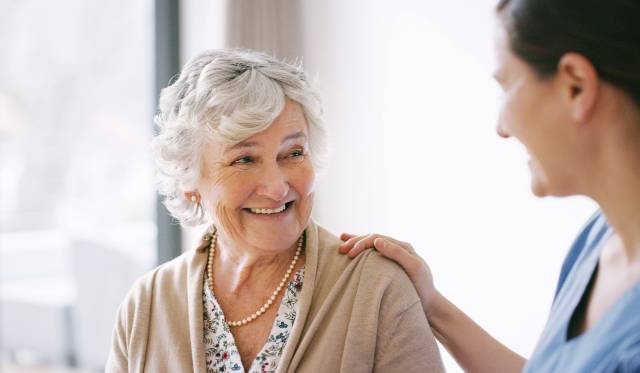 Should I Choose Home Health Care or Assisted Living?
How to Choose
It's a fact that eventually impacts each of us — remaining independent requires effort and adaptation. As we age, the mechanics of eating a healthy diet, exercising and socializing, visiting the doctor, and possibly managing a chronic health condition can combine to complicate our ability to remain at home. We simply need a different living arrangement. Home health care? Assisted living? The choice isn't always clear. And so it's important to understand the differences between in-home health care and assisted living, and to realize that many of us who choose one form of care may eventually require the other as well. The question to answer is, which is the right place to stay with the right plan?
Basic Similarities Between Assisted Living and Home Health Care
In-home health services provided by home health care agencies typically include personal assistance with activities of daily living, such as bathing, dressing, toileting and household tasks such as cooking, cleaning and running errands. A caregiver comes into the home for several hours each day or a few times a week, depending on need.
Residential assisted living is a housing choice that offers personal assistance services similar to home care and more. Like in-home health services, assisted living provides aid with the activities of daily living, but the individual receiving this aid will actually move into a private apartment. The assisted living residence may be part of a larger Life Plan Community or Continuing Care Retirement Community that caters to a wide variety of living needs and preferences. In addition to daily support, assisted living residents typically have access to an on-site, round-the-clock team of professionals to assist in the event of an emergency. Meals, amenities, activities and more may be offered, depending on the community chosen.
Though most people may initially prefer to remain in their home for as long as possible, this is not always the right choice. Choosing between assisted living and in-home health care must be evaluated on an individual basis, based on physical, social and environmental factors. These can include:
Personal safety
Access to care
Ability to manage bathing, dressing, medications and food preparation
Connections to other people and basic socialization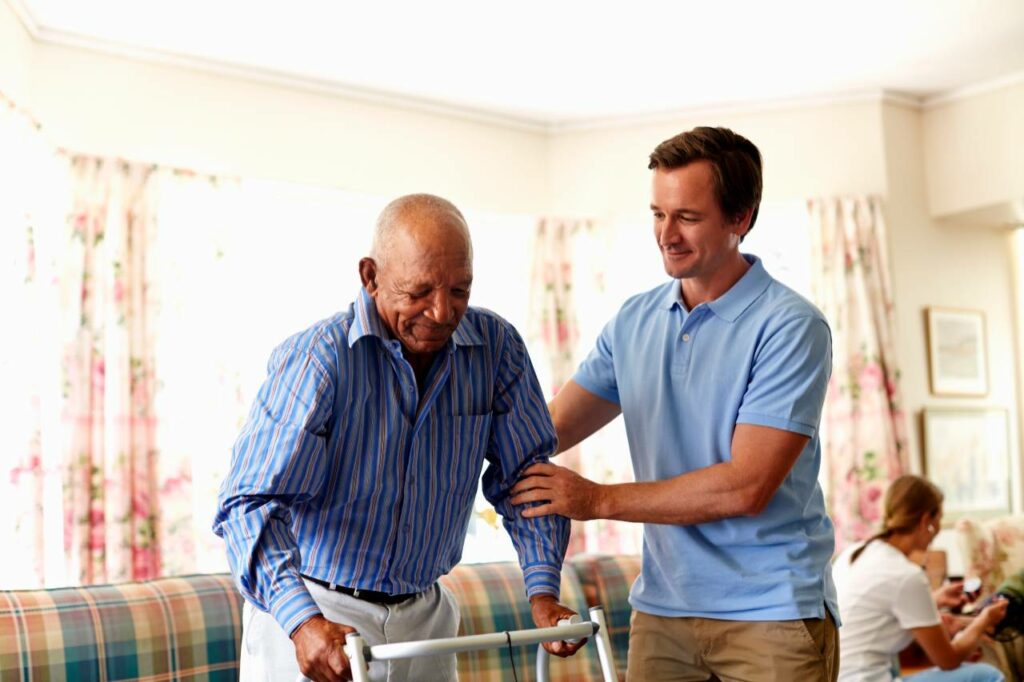 A Closer Look at Home Care vs. Assisted Living
If an individual is assessed as needing assistance with activities of daily living, they will likely also need help navigating their current home if they intend to remain there. Certain measures will have to be put in place to help ensure safety. Installing grab bars and safety bars in the shower and other potentially hazardous locations throughout the residence will help prevent falls. If stairs are present in the home, a stair lift can be a helpful assistive device. If cognitive problems such as dementia or Alzheimer's disease are beginning to surface, installing extra locks or latches that deter wandering can be a necessary adaptation.
And if the decision is made to remain at home, many other responsibilities still must be met. Home maintenance, food shopping, cooking, paying bills, doing yardwork and so on are tasks that require time, planning, effort, transportation and more. If the home is not located near readily available medical care, that fact could have serious consequences. There's also the potential for social isolation and loneliness when older adults elect to age at home.
Living in an assisted living community addresses many of these factors. The residences are designed to be safe and navigable for older adults, and qualified care is always available at the exact time of need. In fact, if a serious medical emergency were to arise, a resident in assisted living would most likely receive attention faster than if the family were relying on in-home health services.
And though in-home health aides may provide a measure of companionship during the hours they are on-site, it can't compare in scale to the potential for social interaction within an assisted living community. It can be difficult, if not impossible, to create adequate socialization opportunities at home. But living around like-minded people — and connecting socially via book clubs, golf or gardening clubs, fitness classes, or whatever might interest the assisted living resident — will play a role in helping them lead a healthier lifestyle with potentially fewer ailments.
Breaking Down the Pros and Cons
If you're considering in-home care for a loved one who seems to be needing more daily assistance, take these considerations into account.
In-Home Care/The Upside
The individual will receive one-on-one care that can be tailored to meet their unique needs and preferences.

The individual may continue to remain in the comfort of their own home or that of a close relative as they age.

Instead of receiving care from many different caregivers, the individual can become comfortable with one caregiver.

Depending on when care is needed and the skill level required,

in-home care

might be less expensive.

Different types of care may be combined to lower overall costs.
In-Home Care/The Potential Downside
When 24/7 care is required, the costs can be very high.

Managing caregivers and backup care planning requires continual family involvement.

Social isolation from remaining in the home may lead to depression, cognitive decline or other health problems.

The home may need to be modified for safety precautions or wheelchair accessibility.

In-home care may not address the issues of shopping, banking, driving or home maintenance.
Assisted Living/The Upside
The services become more cost-efficient as more care is required.

Family members can focus on their role as family, not caregivers.

The family will not have to manage or hire caregivers.

The opportunities for social connection are far greater.

The level of care can be easily increased as necessary.
Assisted Living/The Potential Downside
The caregiving staff may change more frequently than desired.

The quality of care may differ depending on which community you choose.

The person in

assisted living

may simply not enjoy living in a group environment.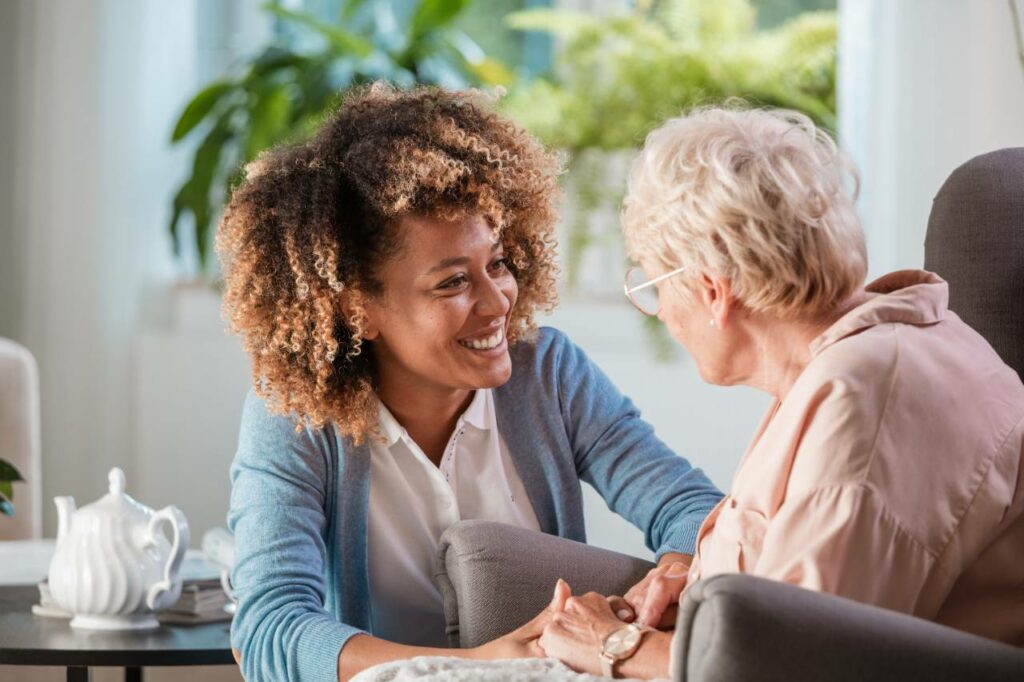 Two important tips to help you choose
Determine the extent of care that's needed. Make a list of everything your loved one will need help with during a typical day, week and month.
Determine how much help and care you can provide yourself. Think about this in the long term. Your loved one may need ongoing assistance for years.
A word about costs
A 2019 survey conducted by Genworth Financial found that the median monthly cost for an assisted living community is $4,051 — totaling $48,612 annually. Medicare does not cover costs for assisted living. Generally, people must pay either out-of-pocket or with the help of long-term care insurance.
On the other hand, the 2019 national average monthly cost for in-home care was $4,385 (for 44 hours of care per week) according to Genworth. Hiring a visiting home care aide or live-in care provider can also get expensive. Professional caregiver fees vary depending on how the care contract is structured, the state you live in, and what kind of services are provided. Home-care options can be as expensive — or more expensive — than moving into assisted living.
The best thing to do is to call for pricing information from assisted living communities and in-home care providers in your area. Then you'll have a more accurate idea of how costs compare.
Discover Kellogg Assisted Living at Mary's Woods
The Kellogg neighborhood at Mary's Woods community in Lake Oswego provides state-of-the-art assisted living care. It offers 48 well-appointed suites on our community's lush green campus. Our 9,000-sq-ft. Fitness & Wellness Center is just next door, along with the Dunn Community Center and Village Town Square featuring medical offices and retail shops, convenient services, casual and fine dining venues, and opportunities for intergenerational activities and events.
For more information on assisted living, or details on direct admittance with no entrance fee, please contact us through our website or call 503-675-2004.