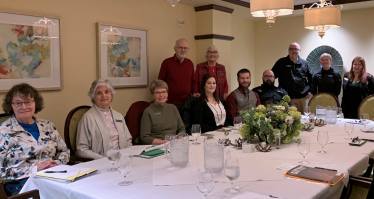 Green Team: Big Things Can Happen
Mary's Woods has always had an active and innovative Green Team. Over the years, members have worked with various departments to become stewards of the environment and protectors of our historic land. Previous achievements include reducing energy consumption with motion sensors, replacing plastic straws with paper straws, and meeting the requirements for Gold Certification as a Leader in Sustainability by Clackamas County.
Heading into 2020, green-minded residents and staff have joined forces to create a more ambitious Green Team. Its central goal is to incorporate the ideals of sustainability into every facet of our community's life.
"When residents and staff work together, big things can happen," said Michael Portillo, Dining Room Manager and leader of the Green Team.
Take for example, the new partnership with Sunnyhill Blooms, a local florist who shares our commitment to sustainability and now provides our dining rooms with beautiful succulents that last longer than traditional flower arrangements, thus, saving water and money.
In addition, the group has recently teamed up with neighboring CCRCs to discuss hot topics for sustainability and ways to achieve success in helping each other.
"One of the keys to becoming a model community in environmental stewardship is by being more inclusive of the people who live and work here," added Michael. "As a team, we generate great ideas. And then find ways to put ideas into action."