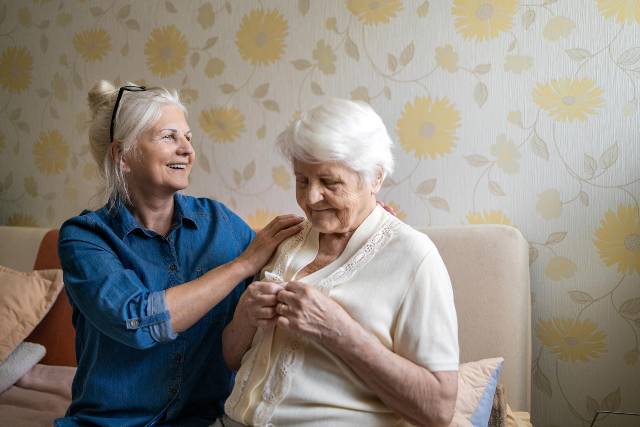 What Are the Activities of Daily Living?
Think for a moment of all the routine tasks you perform to get yourself ready for your typical day — and though you may not realize it, there are many. They're tasks most people can perform on a daily basis without any help. At an assisted living community, they're referred to as Activities of Daily Living. Health care professionals use them to understand how much care an older adult may need. These Activities of Daily Living, or ADLs, also help professional care providers create personal care plans for the older adult, and may determine whether the older adult needs some form of assisted living.
To get a more personal understanding of what Activities of Daily Living examples are, look at your own daily routine. You get yourself up and out of bed, walk into the bathroom to shower, brush your teeth and hair, and perhaps put on a bit of makeup or shave your face. Then you walk back into your bedroom, make the bed and get dressed, zipping up your slacks, buckling your belt and buttoning your shirt. You walk into your kitchen to make yourself coffee and fix yourself eggs and toast. Once you're finished, you wipe your mouth with a napkin, wash your dishes, and wipe down the countertops and table. You're ready for your day.
Now, if you think about all the little steps you performed for yourself — such as getting out of bed, bathing, dressing, eating — those are all examples of ADLs. And as we age, they're the kinds of common things that may become more difficult to do because of health or mobility issues.
An In-Depth Look at Activities of Daily Living
In 1983,  Sydney Katz, MD, a pioneering researcher and physician, developed an assessment tool to more objectively measure older adults' functional abilities. Called the Katz Index of Independence in Activities of Daily Living, or Katz ADL,  the assessment looked at six specific categories as part of the Activities of Daily Living list — bathing, dressing, transferring, toileting, continence, and feeding:
Bathing: Is the person able to get themselves into the tub or shower on their own? Are they able to wash their entire body sufficiently, including their hair? Are they able to brush their teeth, comb their hair or trim their nails?
Dressing: Can they get their own clothes out of the closet or dresser drawers, and are they able to put on different garments? Are they able to manage zippers, buttons or other fasteners? Can they put on and tie their own shoes? Are they able to select the right outfit for the weather?
Transferring: Are they able to move into and out of bed on their own? Are they able to sit down and stand up from a chair? Are they able to walk or move from one place to another, such as the bed or chair?
Toileting: Can they undress themselves, sit and rise from the toilet without assistance, clean themselves after using the toilet, and wash their hands?
Continence: Can they control their bladder and bowel functions, or manage their incontinence on their own?
Feeding: Are they able to get food from the plate to their mouths? Can they chew and swallow? It's important to note that feeding does not include being able to prepare the food.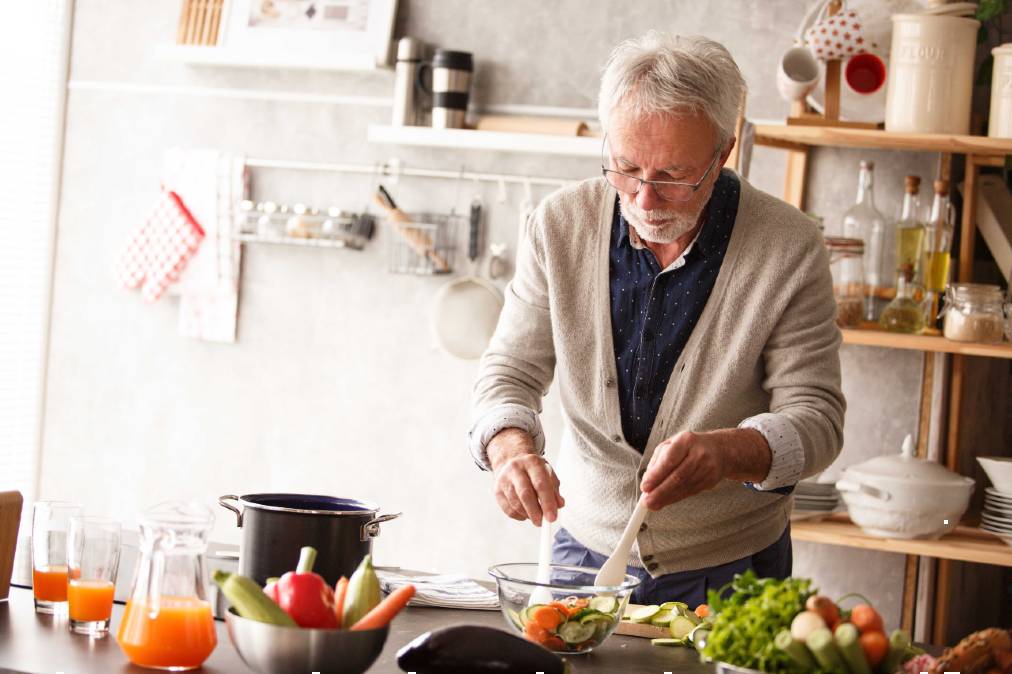 Instrumental Activities of Daily Living
There are also more complex activities that require a higher level of physical and mental dexterity, judgment and organizational abilities. Known as Instrumental Activities of Daily Living, these help create a more complete picture of an older adult's physical and mental health and well-being.
The Eight Instrumental Activities of Daily Living are:
Ability to communicate using a telephone

Shopping for groceries and other essentials

Cooking and preparing meals

Housekeeping chores like making the bed or keeping their living space clean and free of clutter

Doing their own laundry

Handling transportation or driving themselves safely

Being responsible for managing their own medications

Able to manage their own finances, paying their bills on time, keeping track of their income and expenses
These activities aren't vital for basic functioning  each day. However, they're helpful to know because they enable an older adult to live independently either alone in their homes or within a community setting.
Signs Your Loved One May Need Help With ADLs
It often falls to family members or the spouse to decide when an older adult needs assistance with their ADLs. The older adult may be unwilling or unable to admit they need help. It may be difficult to detect subtle changes — conversely, it may take a crisis, like a sudden fall or hospital stay, to realize the gravity of the situation. If you're concerned about an older adult in your life, experts suggest regular monitoring of your loved one's physical and mental abilities. These are some warning signs to watch out for:
Weight loss that's noticeable: It may be because your loved one isn't eating enough or isn't eating nutritious foods. Or there isn't enough food in the house for them to eat. They also may be struggling to cook meals for themselves.
Untidy living spaces: Perhaps your loved one is unable to clean up because they can't get around their home as easily as they once did. The lawn may be unmowed or garbage may be piling up because they can no longer maintain their environment.
Poor personal hygiene: If your loved one has dirty hair, body odor or a decline in grooming habits, they may not be able to bathe themselves, or they're struggling with incontinence and are embarrassed to ask for help.
Unkempt appearance: If they're wearing stained clothing, they may find it too difficult to dress or undress themselves each day or complete tasks such as laundry.
By themselves, each of these indicators is worrisome. But taken together, they strongly suggest your loved one needs more care and support. Assisted living at a senior living community may be the ideal next step, where your loved one can enjoy a happier, healthier and safer lifestyle and receive the right level of care for their needs.
There are many assisted living communities out there, but it's crucial to find one that fits your loved one's daily needs while helping them to live their best life, every day. It's also vital to begin researching communities before a medical emergency or other sudden crisis forces you to make a decision quickly and under duress. By starting your research now, while your loved one can still participate in the process, you and your loved one can have time to visit communities together, get to know the caregiver team at each community, and select the place that feels most like home.
Discover Kellogg Assisted Living at Mary's Woods
If you and your loved one are ready to start investigating your assisted living options, we encourage you to learn more about Kellogg Assisted Living at Mary's Woods. You'll find personalized care and a lifestyle rivaling that of an upscale resort hotel. Our location in Lake Oswego, Oregon, near the bank of the Willamette River, boasts forest and garden views and access to all the advantages of our Mary's Woods campus.
Kellogg residents enjoy a number of services and amenities, including a cafe and dining room, full-service beauty salon, movie house, chapel, and spacious gym with weekly activities, as well as a 9,000-square-foot fitness and wellness center just next door.
Questions? Find helpful FAQ, virtual tours of our residences and much more by visiting us online.