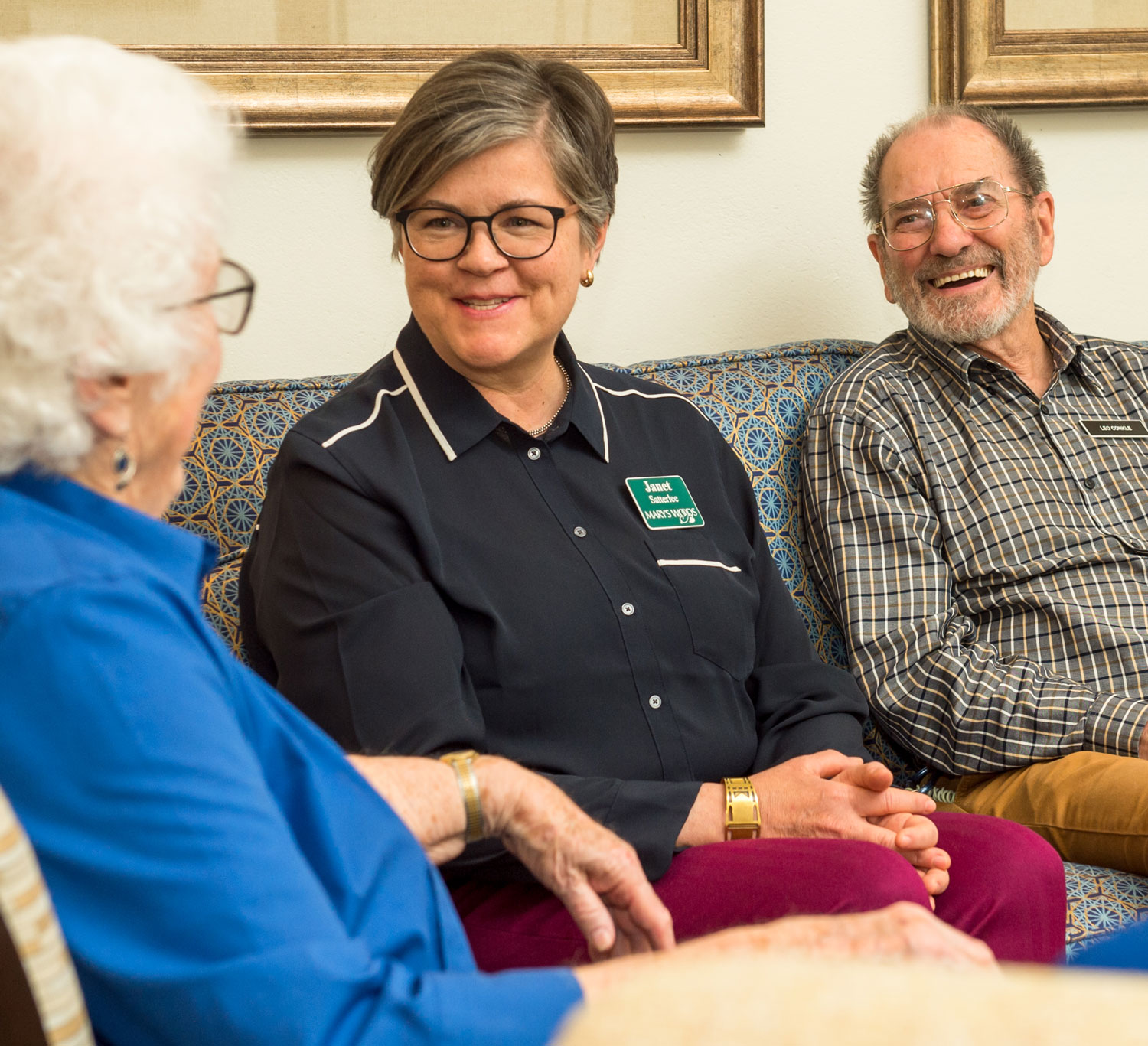 Providing a Continuum of Care in Lake Oswego, OR
Mary's Woods Mission
Mary's Woods is a caring community inspired by the vision and values of the Sisters of the Holy Names of Jesus and Mary, providing a continuum of housing, health care, and educational services.
Mary's Woods responds to the Gospel's vision of full development for every individual at each life stage. The community seeks to ensure the dignity, independence, well-being, and security of older adults through the provision of wide-ranging service and educational options. An array of services enriches the physical, emotional and spiritual well-being of each resident, employee, and all others affiliated with our community.
Sponsored by the Sisters of the Holy Names and rooted in Catholic ethical values, Mary's Woods is characterized by a commitment to:
An environment of beauty
A celebration of life
Hospitality and compassion
Reverence and integrity
A spirit of service
The exploration of the journey of aging
Our vision for the future of senior living
Responding to emerging trends, pioneering new approaches to active aging and caregiving, and promoting a more socially just society, the Mary's Woods community has developed a network of advanced tiered-housing, health care options and active lifestyle services. Integrating the core values of the Sisters of the Holy Names of Jesus and Mary, the community emphasizes individual and community-wide wellness and growth, lifelong learning and spiritual development.
Bringing our Vision to Life
At the heart of the network is Mary's Woods, a Life Plan/Continuing Care Retirement Community offering the highest-quality, most innovative, technologically advanced housing and care options.
The Mary's Woods community embraces older people in the community who choose to age in place in their own homes off campus, or in Mary's Woods' sponsored independent living facilities that promote active lifestyles for older adults. These living options, linked to the main campus through online technology and shared programs and services, provide alternative affordable pathways to services at Mary's Woods.
Guided by Giving
The Mary's Woods community has raised substantial philanthropic support and created a variety of volunteer opportunities to ensure resources are available to support its continuing advancement, and to provide support for its social justice mission.
Based on its commitment to full development and a just social environment for every older individual, the Mary's Woods community partners with regional and national health, government, social service, religious, and educational institutions to advocate and create advanced, nationally recognized age-friendly local communities where seniors are welcomed, supported and celebrated as a triumph of human dignity.