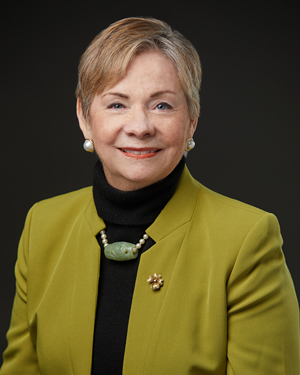 Undergraduate degree, University of California, Riverside (Political Science) and Master's degree from Claremont Graduate University (Urban Institutions and Systems Analysis).
Kathy has had a diverse career, working for government organizations, as well as for- profit companies (10 years at AT&T Oregon) and for the last twenty years working for non-profits, mainly in Higher Education, as head of Development.   As Senior Director for Development, she led the largest college team of fundraisers at the College of Engineering at Oregon State University and succeeded in securing $200 million in philanthropic support to the Engineering school during the last capital campaign – 20% of the total campaign goal for the entire university.
Recently, Kathy has returned to Oregon after 3 years as the Vice President for Advancement at Dominican University in San Rafael, California, where she was involved with securing the university's largest gift of $17.5 million.
Currently, she is the Director of Development at Shriners Hospitals for Children in Portland.  While the hospital is 96 years old, she is only the second fundraiser in its history.  Historically, the hospital had been funded solely from the Shriners International Endowment.   Upon accepting this position, she was tasked with being a change agent to expand philanthropy for the hospital and has exceeded stretch goals for fundraising each of the 4 years in this position.